Warlords Crystals of Power Pokies
The warlords want to do battle. While they are battling, you can win some cash. Like, massive amounts of cash. Not to mention those free spins. Honestly, after a while, you will forget the warlords are battling in this amazing slot machine.
How to Play the Warlords Crystals of Power Pokies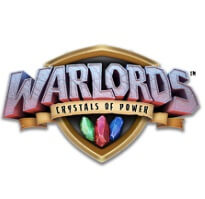 This fab online pokies was first launched in November 2016, to great fanfare, we hasten to add. There are 5 reels and 30 paylines on it. The house edge sits at 3.11%. This is a low to medium volatility pokie. To get started, you are going to need to plump up a minimum of 15 cents. The maximum is $150.
Far too many pokies have become bland. We know that we have started to love games which do not go over the top with animations, but most people now seem to believe bland online pokies are the way to go. Basic graphics that a well-educated 12-year-old with Microsoft Paint could muster up.
This is why we are so pleasantly surprised with the Warlords Crystals of Power pokies. The minute you boot it up, you will know that you have played a work of art. The intricate details on each of the images in this game is something else. We love it. We know that theme is not everything in a pokie, but it certainly does help to have a brilliant theme. It makes us enjoy the rest of what the game has to offer that much more!
One of the things that we love about the Warlords Crystals of Power pokie, and NetEnt machines in general, to be honest, is the fact that the company really loves to create slot machines which have a hint of complexity but are still accessible. For this reason, we genuinely believe that Warlords Crystals of Power online pokies can be enjoyed by pokie enthusiasts both new and experienced. This is certainly one of our favourites, and we have played hundreds of the things.
Bonus Rounds & In Game Features
In terms of features, a lot of it is focused on the wilds. There is a free spins mode, however, it takes a considerable amount of effort to trigger it. This means that you can't expect to be enjoying that mode all that much. It is not necessarily a big deal, just would have been great to get more free spins. We are suckers for handouts.
The wilds are the coloured crystals. They substitute for all other symbols in the game. The one exception here is the scatter. In addition to this wild, there is an overlay wild which can appear at any time. Well, there are three overlay wilds. Each corresponds to a warlord:
Barbarian: he hammers down 4 wilds, in the shape of a square.
Priestess: the Priestess loves to fire arrows. She is not too good at firing multiple arrows, though. This means that this feature is unpredictable. Sometimes she is brilliant and is able to lob 5 wilds onto the reels at a time. Other days, she is hard-pressed to hit 2.
Samurai: he just loves to cut the reels up, giving up between 2 and 5 wilds.
Two different colour scatters on the reels will create a battle. The scatter colour that wins gets to stay on the reel, the other gets changed to that colour. You get a bonus spin that allows you to get a third scatter. If you are unlucky on that attempt, somebody gets a bit annoyed and tosses a rock at the screen, giving you either that third scatter, or some cash.
Free spins will be dependent on the scatters that triggered them:
Blue scatters: 9 free spins, with 3 more spins for every scatter you get.
Green: 7 free spins with a multiplier in place for each individual scatter.
Red: 5 free scatters, the scatters become wild symbols that stick to the screen.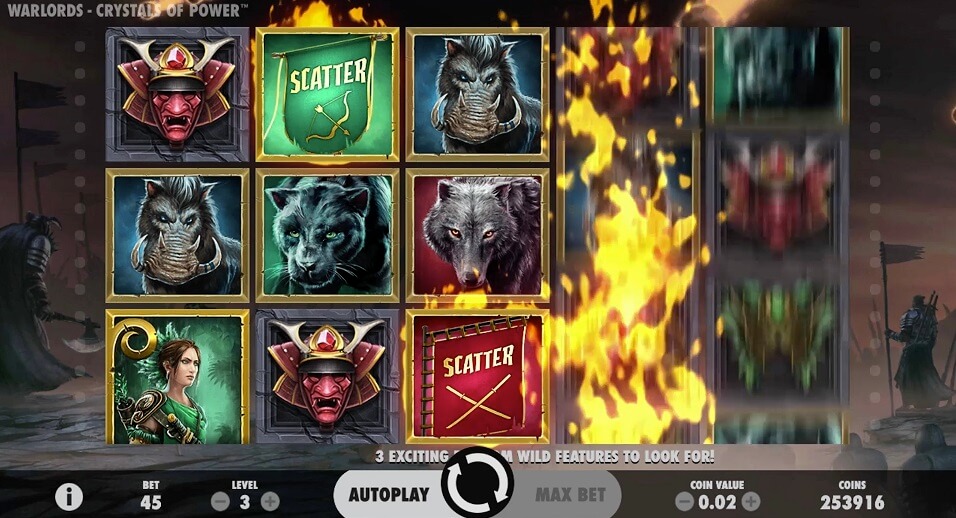 Warlords Crystals of Power Mobile Pokie
The Warlords Crystals of Power mobile pokies is every bit as thrilling as the desktop version of the game. We did not really expect anything less from NetEnt, however. This is a company which knows how to create awesome pokies with a minimal amount of effort.
This one is no exception. What is quite amazing to us is the fact that NetEnt have managed to shrink down those highly-detailed graphics, and still ended up with a game that looks good. Sure, some of the graphical fidelity is lost, but this is not really a major issue.
The game still looks good. Where the game thrives is how well it plays, anyway. It does play well.
Summary – What Do We Think?
We love Warlords Crystals of Power Pokies. We think that we have made this clear, already. It is one of our favourite games to launch in 2016. It looks good. It plays well, and you can't really ask much more from a pokie, can you?
If you are itching to do battle with the warlords, and we know you probably are, then you will be able to test out the game on any of the best pokies sites which offers NetEnt pokies. We have a good selection for you to browse through, so make sure that you check out our list!
Where to Play Warlords Crystals of Power Pokies