Babushkas Pokies Review
We always love stumbling across Thunderkick pokies. This is because they have a knack for crafting pokies which are slightly different from the norm. The Babushkas Pokies Machine is testament to this. In fact, this is one of our favourite machines that Thunderkick have produced…and that is really saying something!
How to Play Babushkas Pokies Machine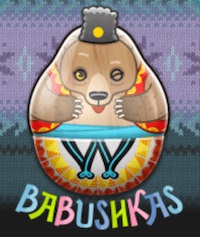 Thunderkick have developed this machine. For those who are unaware, Thunderkick are not the largest pokies company out there. This means that they do not have the budget to produce pokies machine after pokies machine like some of the larger companies in the world of online casinos. However, this means that they try to stand out in other ways. This is through creating unique pokies.
The minimum bet on the Babushkas pokies is 10p and the maximum bet is $100. There are 5 reels and 17 paylines. It does play a little different to some of the other pokies machines that you may have encountered, but we will discuss that in a short while!
This pokies does not have reels in the 'traditional sense' of the word. Instead, there are Babushka dolls. Admittedly, they do spin in a way which is similar to reels, but they look far better at doing it. Each Babushka doll is a different colour and a different size to help you differentiate between then. The game is incredibly easy on the eye and it has a nice, relaxing soundtrack.
There are a few features in this game which may be a little bit off putting to newcomers to the world of pokies machines. They were off putting to us and we play pokies every day of our life. However, to be honest, after you have had a couple of spins on the Babushkas pokies , they are very much going to be second nature to you and you will learn to love them. After a while, you will see that this is a game which very much 'plays' itself.
Bonus Rounds & In Game Features
There are a few features in this online pokies. We know that they are going to be a little bit tough to understand right at the start, however, we promise you, after their first few appearances, you are going to be a dab hand at the Babushkas pokies.
The feature that you will encounter the most in this game is known as the 'Symbol Upgrade'. If you hit a winning combination, the symbols that surround the combination may be upgraded (larger size or different colour) which can lead to even more combinations. If you are lucky enough to have all fifteen symbols on the machine matching, then you will receive back 100x your initial stake!
There are also three 'wild mystery' features. These occur randomly. If you see an egg in the middle of the screen, then you have triggered the feature. A few different things can happen:
Scare Bear: the lowest paying symbols on the machine will be upgraded.
Charm bear: all symbols on the machine will be upgraded.
Dance Bear: 7 free spins with a wild appearing on each spin. This greatly increases your chance of winning.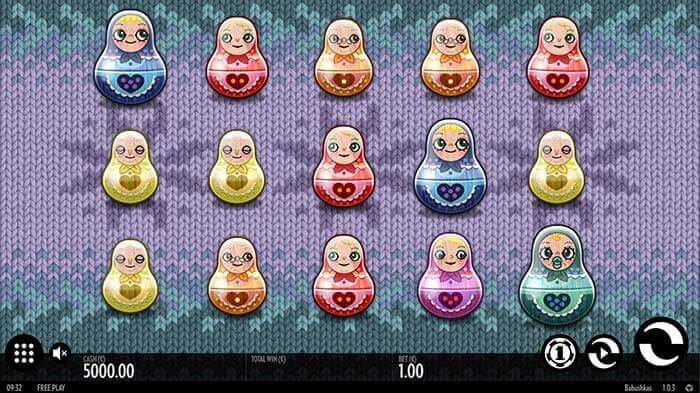 Babushkas Mobile Pokies Machine
One of the brilliant things about Thunderkick is that all of their pokies, right from the outset, are designed to work on mobile devices. This is because all of them are coded in HTML5.
This means both new and older smart devices should be fine with the Babushkas mobile pokies. In fact, due to the way in which the game has been coded, it is very much going to be 'future proof'. You will be hard-pressed to find a device that it does not work on in the future!
Summary – What Do We Think?
The Babushkas pokies is an incredibly unique pokies machine. We won't deny that. If you are looking for a pokies machine which will provide you with a 'break from the norm' then this is the route to go down. In fact, all Thunderkick pokies are. Each and every spin provides heaps of fun, particularly since you never know when you are going to trigger the special features!
You are able to play the Babushkas pokies on any website which offers Thunderkick games. We know that they can be a little bit tough to find, so we have detailed a few of our favourites on this website! We really want you to play this fabulous pokies machine that much!
Other Top Casinos You May Also Enjoy